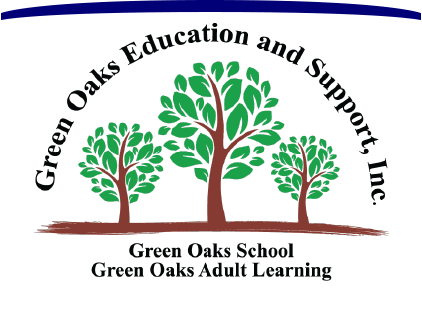 Preparing for fully included lives.
History
History of Green Oaks

2000
Green Oaks School was brought into existence through the efforts of a dedicated and talented group of community leaders, including educators, medical professionals, and concerned parents. Frustrated with the lack of educational opportunities for children with special needs and tired of watching them struggle to belong, the founding board members turned a vision into reality.
The school opened in August, 2000 in a rented portable building behind a church with four students, ages 11 to 14.
2003
In three years, Green Oaks School had grown to 27 students and needed more space. As a result, the building on Chaperito Trail was purchased.
2008
With each new school year, Green Oaks School's highest age level increased and a need for an adult program grew. Green Oaks Adult Learning (GOAL) was added to be a continuing education program for adults. With this expansion, Green Oaks began renting additional space from a local church to accommodate the growing number of students.
2013
Five years later Green Oaks purchased and moved to the current location on Houston Street. Finally, Green Oaks School and Green Oaks Adult Learning had enough space to be all together at one location.
2017
Green Oaks School changed its corporate name to Green Oaks Education and Support, Inc. to reflect its growth and increased reach into the community. Comprised of Green Oaks School, Green Oaks Adult Learning and, soon, Green Oaks Life Prep, the new name conveys that Green Oaks is so much more than a school.
2019
Green Oaks Education and Support, Inc. is currently serving 117 students between the ages of 5 and 57 years old, all of whom have Down syndrome or a similar intellectual disability. Green Oaks continues to grow and thrive, changing the lives of individuals and their families for the better.
2020
Green Oaks Life Prep opened on the campus of Arlington Baptist University with eight students living in the dorms.