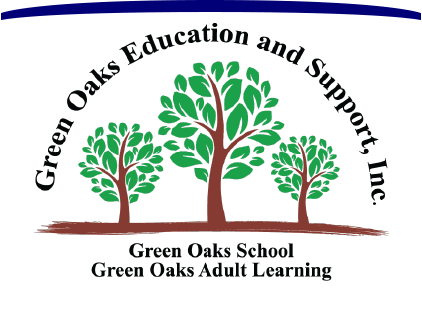 One of a kind
Our Mission/Vision Statement
PURPOSE STATEMENT
Green Oaks Education and Support, Inc. exists to glorify God, serving and promoting the cause of Jesus Christ, by developing the whole person to impact the world for Him.
VISION STATEMENT
Green Oaks Education and Support, Inc. strives to be the model community of individuals with intellectual disabilities and others who are prepared to impact the world for Jesus Christ.
MISSION STATEMENT
The Mission of Green Oaks Education and Support, Inc. is to provide a quality, person-centered Christian education to individuals with Down syndrome and similar intellectual disabilities by offering them the opportunity to reach their maximum potential academically, vocationally, socially and spiritually; by recognizing the inherent God-given dignity of each person; by preparing them and offering support for community inclusion; and by assisting each person in finding and living out his or her purposeful life. Green Oaks Education and Support, Inc. also strives to provide services and resources to support families and members of the community.
STATEMENT OF FAITH*
We believe:

· The Scriptures. Every word in the original writings of the Bible is inspired by God and is without error. It is accurate in all matters to which it speaks . . . spiritual, historical and scientific. (II Tim. 3:16, II Pet. 1:21).
· God. God exists eternally in three persons: the Father, the Son, and the Holy Spirit. The three are mysteriously distinct in person but the same in essence. They are one God. (Gen. 1:1, John 10:30; 4:24; Deut. 6:4; Mat. 28:19; II Cor. 13:14).
· Jesus Christ. The eternal Son of God became incarnate in the Lord Jesus Christ, being born of the virgin Mary, and is true God and true man. He lived a sinless life, performed miracles, died physically on the cross and was raised from the dead bodily three days later. (John 1:1,14,18, 5:18, 2:11; Heb. 1:1-9, 4:15, 5:8, 7:26; I John 5:20; I Tim. 2:5; I Cor. 15:1-5).
· Holy Spirit. The Holy Spirit is the third Person of the Trinity. He regenerates, indwells, baptizes, and seals all believers in Christ and empowers those yielded to God. (Mat. 28:19; John 3:3-7; Tit. 3:5; I Cor. 6:19; Rom. 8:9; I Cor. 2:12; 12:13; Eph. 4:30).
· Man. Man is created in the image and likeness of God. In Adam, all mankind fell into sin with the result that all men and women are now born sinners by nature. Men are justly condemned to eternal judgment and can do absolutely nothing to earn favor or make peace with God. (Gen. 1:26; Jeremiah 17:9; Rom. 3:10-18, 5:12; Rom. 3:23; Gal. 3:10; Rom. 6:23)

* Used with permission from Calvary Bible Church, Fort Worth, September, 2007