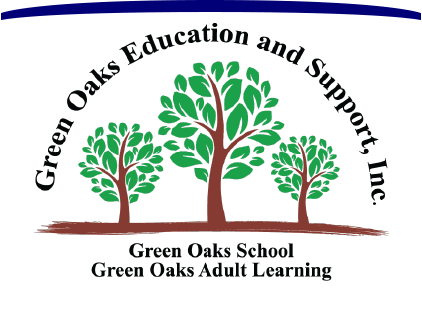 One of a kind
GOAL Summer
GOAL (Green Oaks Adult Learning) is pleased to offer a full summer program that has the flexibility to fit any need and schedule. While GOAL is offered year-round, it is possible to register just for the summer. Individuals ages 13 and older will be considered for admission in the summer only.
Our program consists of three modules. You may choose one or two modules each day, up to ten per week.
Module I: Foundation 8:15 a.m. to 1:30 p.m.
Module II: Thrive 1:30 p.m. to 5:30 p.m. (pick up at any time)
Module III: Pathway 12:00 p.m. to 5:30 p.m.

Each module is available Monday through Friday. Foundation may be chosen alone or in combination with Thrive. Pathway cannot be combined with Foundation.
Program fees
Application Fee $ 75 (one time only)
Summer Only Enrollment Fee* $ 50 Applies to participants enrolled during summer months only.
Schedule Change Fee* $ 25 Due when schedules are changed by the family.
Late Pick-up Fee* (after 1:35 or 5:35)** $ 25 Plus $1 per minute for every minute late thereafter.
Pathway Early Drop Off Fee* $ 5 For drop off before 11:45 a.m.
Drop-In Module Fee* $ 35 For those who wish to attend an additional module--
requires one full day notice.
HCS, TxHML & CLASS Billing $25/mo.
*All fees are non-refundable.
**Does not apply to those riding Handitran.

Additional options are available:
Daybreak 7:45 a.m. to 8:15 a.m. $5/day
Morning Vanpool Northeast & South Fort Worth, subject to availability $5/ride
Afternoon Vanpool Northeast & South Fort Worth, subject to availability $5/ride
Weekly costs vary based on enrollment. The cost can be as low as $35.00 a week for one module to $250.00 for full time enrollment. While some families will pay through private funds, a significant portion of the fees may be covered by a Medicaid Waiver Program (HCS, TxHML, CLASS, etc.) Because there are a variety of part time options available, each family will be able to create a program within their budget.
Program Cost
Foundation (Module I), Thrive (Module II) or Pathway (Module III):
The cost for the program is dependent upon the number of modules chosen each week. If you receive money from a Medicaid Waiver program, dayhab funds may be applied to the cost of the program.
Cost: 9 or 10 modules per week, $25 each
7 or 8 modules per week, $27 each
5 or 6 modules per week, $30 each
3 or 4 modules per week, $32 each
1 or 2 modules per week, $35 each
Dates and themes
GOAL is available throughout the summer, except the weeks of June 1, July 3-10, and August 10I. Families may register for all weeks or select weeks as desired.
In addition to much of our familiar programming, Summer 2020 themes will revolve around two main themes. We invite participants to join us for "The Greatest Summer."
June 8-July 2: Experience the world through your five senses.
July 13-August 7: Prepare for the Summer Olympics.
Class offerings
Depending on the individual schedule selected, participants rotate through the following classes:
Health & Wellness, Theme Time, Bible Study, Personal Development, Vocational Training, Arts (Dance, Music, Drama), Literacy, FACTs (Life Math), and Electives (Book Making, Production, Cooking & Nutrition, Social Studies, Geography Explorers, and Communications).
day trips & Special Presentations
Throughout the summer, off-campus day trips and special presentations will be scheduled. These special events will be planned in advance and included in communication sent to families weekly. There will be limited space available, so your quick RSVP will ensure a place for your participant. The cost will be billed to your account.
*Please note, individuals over the age of 22 are eligible for our GOAL summer offerings only.